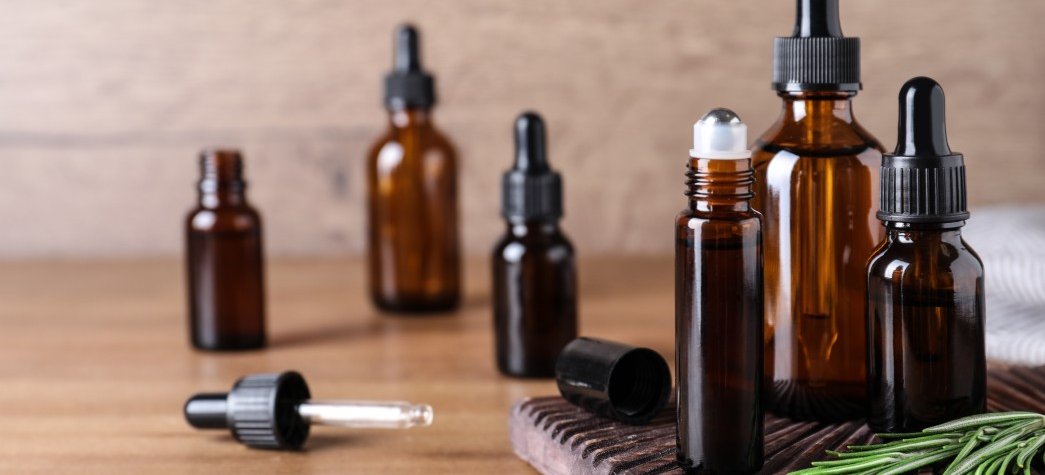 Aromatherapy
Amber glass dropping bottles in a range of sizes and designs to deliver essential oils in perfect condition
Aromatherapy involves the use of essential oils and other aromatic plant compounds for healing purposes and is used to treat a range of common illnesses, notably via self-medication. It is a significant branch of complementary medicine with a turnover in excess of €200M per year in France alone (2017 combined figure for pharmacies and drugstores)*. Popular essential oils include lavender, rose, tea tree, wintergreen, peppermint, Eucalyptus and mint with organic products taking a growing share of the market.
Essential oils are often simply blended with carriers for topical application or inhalation, but can also be formulated into more complex products such as pastilles, syrups and sprays. Common therapeutic areas include the treatment of colds, cough and respiratory illness, stress and relaxation, and muscle pain. Essential oils can be extremely costly, for example rose oil sells for in excess of €15,000 per litre*, and are typically packaged in amber bottles due to their high sensitivity to light. Glass packaging offers a range of attractive features for essential oils including:
Flexibility, bottles are commercially available in a wide range of sizes and designs
Good UV protection, amber glass is the 'go to' choice and is highly effective in preventing light-induced deterioration
Sustainability, with options for easy disposal and recycling.
SGD Pharma's comprehensive portfolio for aromatherapy products centers on molded, amber, Type III dropper bottles, a highly effective solution for essential oils, that preserves quality over an acceptable shelf-life and allows easy dispensing. Volumes ranging from 5 to 100 ml are available with a choice of neck finish types. The range also includes syrup bottles for formulated aromatherapy products.
* France AgriMer 'La Vente de Plantes Médicinales en Pharmacie et Parapharmacie' Années 2015 – 2016 – 2017 (Données OpenHealth Company) Janvier 2019