With an historical know-how of + 100 years inherited from Saint-Gobain, SGD Pharma is renowned worldwide as a technical referee in the glass packaging.
Delivering the demanding pharmaceutical market, SGD Pharma combines its control of the glass process with the implementation of GMPs for pharmaceutical primary packaging in all its manufacturing facilities. The company commits to supply containers offering good adherence with drugs and patients.
This double expertise is the basis of our performance, confirmed with our leading position on the market. To achieve operational excellence in its 5 facilities, SGD Pharma exchanges best practices and aligns its manufacturing and quality process.
In 2013, SGD Pharma started tubular conversion. The company is using its long expertise in glass process and its commitment to the pharmaceutical market. The facility is equipped with state-of-the-art converting machines and has acquired the knowledge to reach international standards and world class tubular glass containers.
Production process for molded vials

STEP 1: Batching
After incoming control, raw materials are separately stored in silots.
Glass composition is weighed, blended and introduced in the furnace.
SGD Pharma produced the 3 types of glass describe in the pharmacopeia:

Type I: borosilicate glass, neutral in the mass
Type II: soda-lime glass with a high hydrolytic surface resistance
Type III: soda-lime glass with a low hydrolytic resistance

These 3 types of glass can be flint or amber.
STEP 2: Melting
Specially designed furnaces reach temperatures of up to 1600°C (2900° F)
Raw materials are converted to molten glass over a 24-hour period within the furnace
Gravity and convection currents facilitate optimum blending of materials
STEP 3: Forming
Gobs are formed, cut and delivered into the blank mold
The vial is formed using Press & blow process or Blow & Blow process
In both case, the vial is formed in 2 steps:

A preform or blank and the neck is formed
The blank is transferred to the finished mold to form the finished vial

Fully automated, the IS forming machines are equipped with multiple stations to form from 4 up-to 48 vials per cycle.
After forming, all vials are controlled and pass through annealing lehr to release glass mechanical stress
STEP 4: Inspection in the clean room
Once formed and cooled, 100% of the vials and bottles are inspected in a clean room environment to control:

Dimensions, including wall thickness and diameters
Glass Integrity
Seal and bottle Integrity
Neck and bottom inspection
Defaults such as chipped glass, blister, distorsion, finish distorsion affecting tightness
STEP 5: Packing
Before packing, all vials and bottles are turned upside down and blown in the clean room to minimize risk of loose particles presence.
Shrink-wrap packs are formed inside the clean room for maximum cleanliness.
Automated Palletization offers consistency and avoid human manipulation with the vials.
STEP 6: Release
Each label contains data critical for complete traceability.
Batch release is based on manufacturing track records and QC results.
SGD Pharma systematically issues compliance certificates with each delivery.
Production process for tubular glass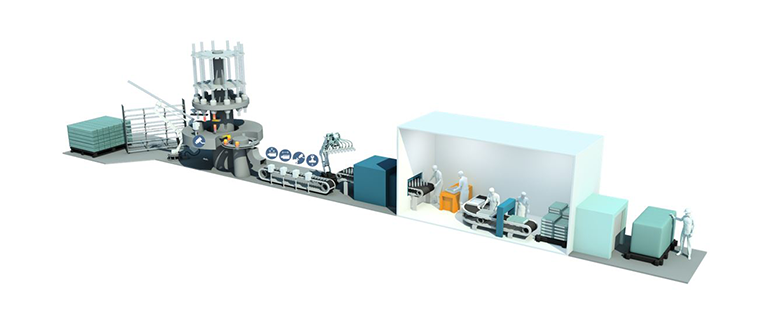 STEP 1: Tube Feeding
The raw material are glass tubes supplied from globally renowned manufacturers like Schott and NEG
Clear or amber, the tubes are made of neutral borosilicate neutral glass (5.0 expansion family) with high degree of Hydrolytic Resistance
Tubes are loaded by a robot on a rotative machine.
STEP 2: Forming
The tubes are heated, shaped and cut to give the dimensional parameters in 3 main steps:

Shoulders and neck forming (including 100% on-line dimensional inspection)
Tubes parting: heating and cutting to set vial height
Bottom glazing: heating, glazing and cooling
STEP 3: After forming
Vials are cooled down and blown with filtered air
100% on-line inspections of:

Total length and bottom concavity by electromechanical gauge
Internal neck diameter by camera
STEP 4: Annealing
Vials are individually picked and placed on the conveyor belt of the annealing lehr with no glass to glass contact
Perfect annealing to release residual stresses through a monitored thermal cycle
STEP 5: Final inspection and packing
Final inspection under clean room conditions
Optional cosmetic inspection by off line camera
Vials are packed in shrink-wrapped PP trays or in cleanpacks and then palettized.