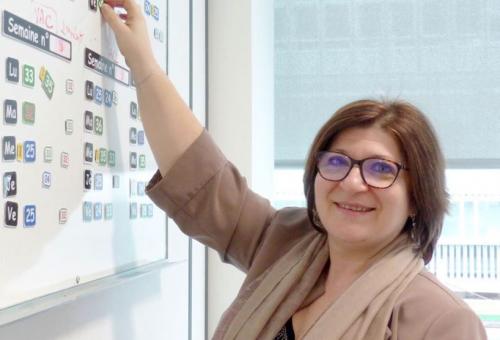 Vincenza Zakarian
Can you summarise your career?
After training as a Trilingual Executive Assistant (FR, IT, EN) in Paris, I chose to join an SME working in textile import/export. I was lucky enough to gain some all-round experience through the diverse positions that I held within this company. Initially hired as an Executive Assistant in purchasing, I then moved to accounting before turning to export sales, a department that did not previously exist, that I built from A to Z.
Over the following years, I held various sales positions in different companies in a wide range of sectors such as sprinkler manufacturing, sails for boats and luxury fabric.
In 1998, I joined the Saint-Gobain group as an export sales rep for the sale of bottles worldwide. I held this position until 2005, the year in which I joined SGD as a Pharmacy Supply Planner. I have been in this position for 13 years now...
Can you describe your role in a little more detail?
It is true that the profession of Supply Planner is not very well-known. To briefly summarise it, I act as the interface between production, sales administration and the logistics chain.
Specifically, my role is to plan the production of Type 2 and 3 yellow glass depending on the volume and specifications of the orders received at our plant in Sucy-En-Brie. This schedule allows us to establish production lines, taking into account the different constraints, such as quality, cost, time frame ... that need to be taken into consideration. 
Obviously, I am in constant contact with our sales team in order to better respond to better meet their demands.
Are there any achievements that you are particularly proud of since you joined SGD Pharma?
Actually, what is so exciting about my line of work is that every day brings new challenges and constraints. I have learned, over time, to easily accept starting all over again with something we may sometimes have taken hours to set up, and to do it always with the same purpose - to satisfy our customers.
I can say that I am proud of my responsiveness in meeting the challenges that I encounter on a daily basis. 
Is there something in particular that you enjoy about your work environment and that you would like to share?
At SGD Pharma, we all work well together with mutual understanding. I am based at the headquarters in Puteaux and I get on well with both the colleagues with whom I share my daily life and the teams based at the production site in Sucy-En-Brie. We all work together hand in hand and are all moving in the same direction.