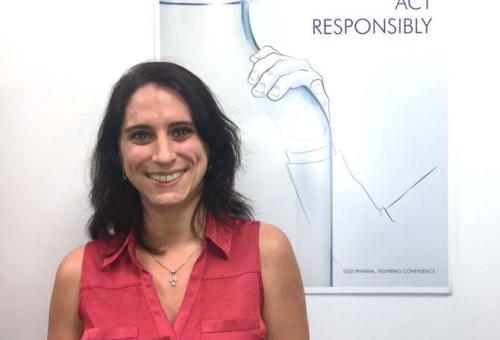 Caroline Bourgoin
Regional Sales Manager, SGD Pharma New York
Could you sum up your career for us?
After completing my BTS (Associate Degree) as a trilingual assistant, I began as an executive assistant then quickly began to transition into sales assistant roles in various sectors of industry (auditing, tableware, children's nutrition).
In 2011, I joined SGD Pharma as a Sales Assistant for France. Two years later, I transferred into the role of Sales Manager for Central Europe then for Northern Europe.
In 2017, I became Regional Sales Manager, joining the SGD Pharma team at the office in New York, USA.
 
Could you describe your job in more detail?
I'm responsible for the sales and commercial development in the USA and Canada.
Since mid-2018, I have also assumed responsibility for customer services. We work together to improve our processes with the aim of guaranteeing our clients the best possible service.
Our region is undergoing a huge growth, it's important that this is well organised in order to support and sustain our development. ​
 
Are there any accomplishments that you are particularly proud of since joining SGD Pharma?
At SGD Pharma, I have had the opportunity to work in many roles, across several regions and to be involved in numerous projects. One of the challenges has been adapting to the different issues and problems associated with each service and each geographical region.
If I had to mention just one project, it would be the management of our range of baby bottles. I was a assistant in the sales department and product manager for this product range. The portfolio was interesting but rather complicated as it combined the challenges of both glassware and decor.
 This portfolio required a great deal of coordination with planning teams, with which we set up monthly reviews to help us anticipate future requirements, as well as the teams from sales and marketing.​
 
Is there something that you appreciate about your work environment and would like to share?
The first thing that comes to mind are the colleagues who I have worked with since I started working at SGD Pharma. Working as part of a team is a great motivation. I really enjoy having contact with people from different departments, being able to exchange experiences and always learning new things. It's also rewarding to work in a multicultural setting.​