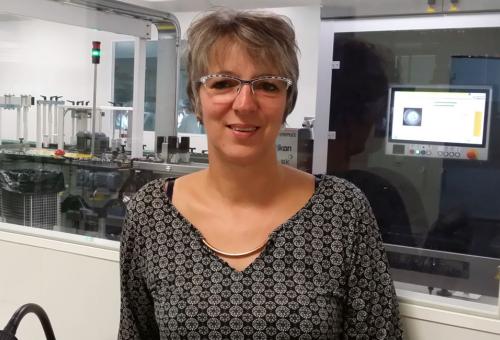 Aline Duval
Société des Services Verriers (SSV*) Production Manager
Can you tell us about your background?
After a training in mechanics, I started working, in 1992, in the plant where I am today but did not belong to SGD Group yet. Hired as a sorting operator, I was promoted team leader and became, a couple of years later, Health and Safety Manager (EHS). In this context, I followed a certifying training to upgrade my expertise in this sector. Meanwhile the plant became a subsidiary of SGD group and, in 2014, I was appointed Perfumery Production Manager. After the split of the two activities - pharmaceutical and cosmetics - SSV was dedicated to the pharmaceutical bottles and, since 2016 I'm an in charge of the whole site.
Could you describe your current role in more detail?
My role is really multitask since I am in charge of ensuring that the sorting quality is excellent with specific objectives but I am also very much involved in the human resources management since the activity of our site is essentially manual and done by a majority of women.
Work conditions and well-being at work are very important for our site's productivity to be good.
All my previous positions are helping me in my current role as it enables me to have a global vision and understand and manage all the aspects related to the employees' work.
Are there any achievements that you are particularly proud of since you joined SSV?
When I was Health and Safety Manager, I created a Unique Document mapping out all the plant's potential risks and all the measures to implement in order to avoid or minimize the identified risks.
Also, when the plant switched from serving two divisions – perfumery and pharmacy – to being solely focused on pharmacy, I helped to this transition phase requiring sometimes to train the staff when needed.
Is there anything specific that you like in your working environment and that you would like to share?
In the company for more than twenty years, I had the opportunity to grow in my job and to be where I am now thanks to a range of factors: the training I received, the trust I was able to gain and the autonomy in my work. Today we really work in a 'collaborative mode' where the discussions are key in our site and I'm delighted of that because my role reflects fully this approach.
*SSV, a subsidiary of SGD Parma, is a French site dedicated to pharmaceutical bottles' sorting