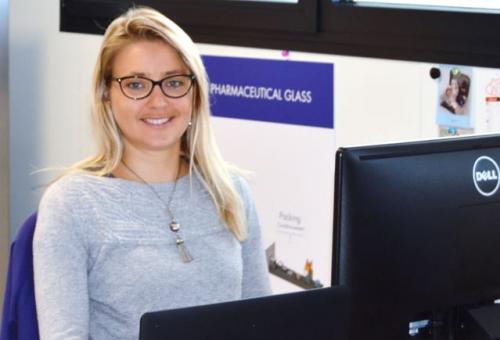 Agathe Simon
HR Deputy Manager, SGD Pharma Saint-Quentin-Lamotte
Could you sum up your career for us?
After obtaining my master's degree in Human Resources, I joined SGD Pharma in 2016 as an HR assistant at our production facility in Saint-Quentin-la-Motte. This was a great opportunity for me because the factory had only just been opened. This meant I was able to become immersed in the world of the exquisite material that is glass.
Could you describe your job in more detail?
The success of SGD Pharma clearly lies in the quality of our vials  but also in the quality of the people who make it. Managing contracts, looking out for talented people , negotiating salaries, managing HR projects... that's my job. 
There's the talent we have working for us, and the talent waiting to be recruited. My job also involves developing the skills of our staff by offering a number of training courses. My aim is to ensure  that everyone is able to thrive at SGD Pharma and of course achieving the goals set by the company.   
Most importantly, the job requires a passion for human interaction. A desire to understand how each individual works  and what their motivations are in order to help the business progress and evolve.  This human connection is exactly what makes my job and my daily routine so exciting. 
Are there any accomplishments that you are particularly proud of since joining SGD Pharma?
The achievement which I am most proud of is the development of different trainings as well as my involvement in optimising the training schedule used at the factory. 
The world of glass includes skills​ that are sometimes very physical but above all, highly technical and which require a high level of skill, mainly due to the high temperatures at which molten glass is handled. So you can't help but feel proud to see how our glassmakers pass on their expertise and to be able to support the employees as they continue to build on their skills. 
This phenomenon is a perfect example of my aim of knowing how to "ensure that each individual remains motivated to do his/her very best". 
Is there something in particular that you appreciate about your work environment and would like to share?
SGD Pharma is a company that is going places, one that is consistently evolving. As an HR assistant, I am responsible for ensuring the smooth running of business processes and my aim is to guide our business partners towards finding their best voice. I am always available and happy to answer any questions our employees may have.  At our production facility in Saint-Quentin-la-Motte, we see ourselves as one big family more than anything else. Every individual is approachable at all times and the hierarchical model is not the defining concept in how we interact with one another. 
I also enjoy the avant-garde and forward-thinking culture which the company embraces. This ethos places particular importance on employee security, continuous improvement and innovation, all of which contribute to an extremely pleasant work environment.