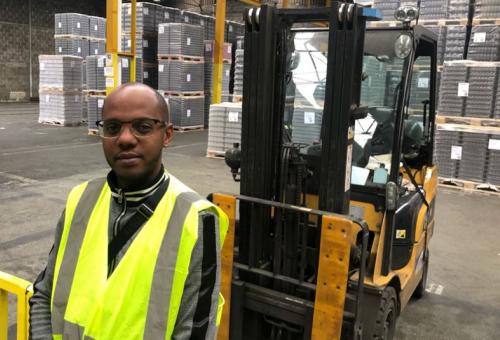 Jeremy Gouama
Logistics Manager, SGD Pharma Sucy-en-Brie
Can you give us an outline of your career?
With master's degree in logistics engineering, I spent over a decade working in various industries (automotive, cosmetics, packaging, etc.), where I had the opportunity to cover the whole spectrum of the supply chain. My past experiences have helped me develop the necessary skills for my current position, as the logistics Operations Manager for SGD Pharma, in Sucy-en-Brie. A position I have held since July 2015. Today I look after a team of 17 (2 supervisors and 15 forklift operators) involves with order picking, storing raw materials, shipping, etc.
Could you describe your role in a little more detail?
As the logistics Operations Manager, I handle the physical flows of our bottles and our customers complaints.You do not need to be a logistics expert, you just have to be pragmatic with a taste for operations. My job requires a lot of rigor because you have to be precise when it comes to logistic matters. You need to be organized and plan everything. I am always on the field and it is what makes my job fulfilling. People interaction is key, you need to show empathy and great adaption skills. I want to stay close to my teams and I am always looking at ways to improve their work conditions. Training and making sure that the safety rules are applied are also part of my duties.
Do you have any achievements that you are particularly proud of since joining SGD Pharma?
​I do have a hands-on management approach. Getting to know my team and understand their drivers, requires a lot of energy. For example, when an assignment does not work the way it should, I gather everybody, so we can talk about it and solve the issues together. The guys test what has been discussed and give me a regular feedback, then we adapt if it does not work. This method has proven to be successful in 2018. We managed to restructure the service but the job is not done yet. My biggest achievement is to keep get my teams improve and sharpen their skills​